WHAT YOU MIGHT NOT KNOW -With Amara Thoronka
Have you ever heard or thought about the existence of a whole community only inhabited by women? It sounds strange right? Well, there is one in Kenya, an east African nation.
It is called Umoja Village, a village on the banks of the Ewaso Ng'iro River in Samburu National Reserve, around 380km from Nairobi [Kenya's capital]. The village is inhabited by members of the Samburu tribe.
The strikingly unusual thing about this village is that it is only made up of women and some children who are growing up in the village. Men can visit on permission, but they are strictly prohibited to inhabit the village.
They welcome visitors to the village with clapping and singing. The women perform a number of ritual songs and dances by thrusting their chests and shoulders forwards, causing their necklaces to jump up and down. The wording of their songs portrays independence and freedom from harassment and bullying.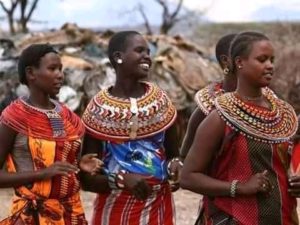 Samburu women dressed in colourful robes, beaded necklaces and headwear.
Before their habitation in the village, the women are said to have endured a lot through the years – with little access to education, forced marriages (in some cases to much older men) and regular beatings.
The village was started by a Samburu woman called Rebecca Lolosoli in the early 1990's as a safe haven for the women who had undergone (or were about to) undergo forced marriage and initiation, humiliation and beating.
The word "Umoja" actually means 'unity' in Swahili. The women work as a cooperative, selling their jewellery to passing tourists. They have since inspired other women to do the same.
They maintain their traditional mud houses by smearing wet cow and elephant dung onto the outside walls. The huts are said to be surprisingly cool inside and offer a wonderful respite from the dusty heat outside.
There are campsites for tourists adjacent to the village. The campsite is a perfect base for visiting the village as well as taking a game drive in the Samburu National Reserve. The camp has bar and restaurant facilities and you can also experience a traditional campfire dinner with more singing and dancing.