By: Christian Conteh
The sociologist Sylvia Walby defines patriarchy as "a system of social structures and practices in which men dominate, oppress, and exploit women." Patriarchy is generally a social system in which men hold primary power and dominate roles of political leadership, moral authority, social privilege and control of property. Some patriarchal societies are also patrilineal, meaning that property and title are inherited by the male lineage.
It is usually associated with a set of ideas, a patriarchal ideology that acts to explain and justify this dominance and attributes it to inherent natural differences between men and women. Historically, patriarchy has manifested itself in the social, legal, political, religious, and economic organisation of a range of different cultures, particularly on the African continent.
Marcella Samba Sesay is the Executive Director of Campaign for Good Governance (CGG) and Chairperson for National Elections Watch (NEW) in Sierra Leone she says that amidst the strides made over the years and successes achieved the country's (Sierra Leone) dominant political culture and socialisation is bedeviled by patriarchy.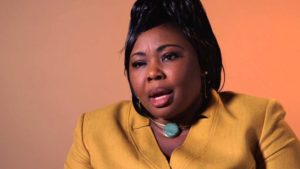 "As a country (Sierra Leone) we live in a society where the dominant political culture and socialisation is bedeviled by patriarchy. There is an orchestrated and organised plan to ensure that women have a hard time when they are in leadership. Even though men have their challenges in leadership but there has not been that systematic undermining of men's leadership as it is with women's leadership," Marcella Samba Sesay says.
Similarly Gambian women rights activist now Vice President of the small West African country Dr Isatou Touray says amidst the huge progress made in the advocacy for women's rights the country is far from ending its culture of male dominance.
"I have been advocating for the protection of the rights of women in this country for the past three decades and I can tell you that we have made huge progress. Many believe that the country is far from ending its culture of male dominance in all spheres of life despite having five women in parliament, woman vice president and 3 female ministers," Dr Isatou Touray says.
Frustrations with regards to the advancements of the rights of women in The Gambia are high but the gains are equally visible and Dr. Touray is more optimistic today than ever.
"The Gambia has ratified the United Nations Convention on the Committee on Elimination of Discrimination against Women (CEDAW) and other human rights protocol to advance the human rights of women and, internally, put some laws in place to address the issues affecting women [but] it should now move to what we call formal equality. What we were having is informal equality because virtually everything is just in the law," Dr Touray says.
CGG's Marcella Samba Sesay revealed that in the past six to eight months as civil society actors they have been going around the country talking about the issue of gender equality and women's empowerment. Amidst this hard work, she noted that no one should ignore the socio-economic context in which gender laws have to flourish. She is continuing her call for the change of mindset when it comes to women's empowerment. As it stands, she said that the mindset of both men and women is: are we ready for women leaders?
"The majority of Sierra Leoneans believe that women should not be given a seat at the table and women should not take the lead in public life. The enormity of challenges women face when they are leaders is unbelievable," Marcella notes.
Adding that "when we examine the socio-political context we notice that among ourselves there is unnecessary competition. Most of the work we do that should ensure unity of purpose ends up being competition and separation."
She called on women to seek alliances and partnerships that position them for leadership. She maintains that when a young girl sees a woman in a position that girl aspires to be like that woman.
"But how many women are in positions as mentors for girls to look up to them? How can we encourage young girls to step in our shoes when the space is so toxic?" she asks.
Dr Boro Susso is a gender specialist and lecturer at the Stratford College of Management, she says,
"It is time for women to seize their rights. Issues like political participation, being given leadership positions and ending violence against women are basic fundamental human rights that must be given to them."
Boro however said The Gambia has made some considerable progress in the protection of women's rights but argued that much of what the Government has promised to do in their protection turns out to be "mere political rhetoric".
Most of Africa including The Gambia and Sierra Leone are very conservative, male-dominated societies with a higher rate of illiteracy. And until now, having an audience to talk about abandoning female genital mutilation, wife battering, and other menaces affecting the progress of women has been difficult.
New laws are however gradually changing the narrative as women's rights have been recognised and guaranteed in all international human rights instruments, notably the Universal Declaration of Human Rights, the International Covenant on Civil and Political Rights, the International Covenant on Economic, Social and Cultural Rights, the Convention on the Elimination of All Forms of Discrimination Against Women and its Optional Protocol.
All other international and regional conventions and covenants relating to the rights of women are considered inalienable, interdependent, and indivisible human rights.