The newly sworn Vice President, Ousainou Darboe has thanked President Barrow for appointing him to an elevated capacity.
VP Darboe made these statements at the swearing in ceremony of eight Cabinet Ministers, Government Spokesperson and a Permanent
Secretary held at State House, Banjul.
"Thank you for appointing me to serve you in an elevated capacity," VP Darboe said.
The new VP along with eight Ministers, Amadou Sanneh Trade, Dr Isatou Touray Health, Mambury Njie Finance, Momodou Tangara Foreign Affairs, Lamin N Dibba Agriculture, Ebrima Sillah Information, Musa S Drammeh Local Government, Hadrameh Sidibeh Youth and Sports, Ms Ada Gaye Permanent Secretary Ministry of Agriculture and Ebrima Sankareh as Government Spokesperson took the prescribed oaths of Office, Allegiance and Secrecy respectively.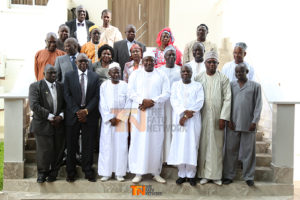 Darboe expressed confidence in the President after taking oath while pledging to serve President Barrow's agenda along with national interest. He added that the journey toward democracy, rule of law and social justice is only achievable with collective work.
"The swearing in ceremony is not a mere ritual but its a commitment towards national duty," he said.
President Barrow in his statements reiterated the fight to end corruption as stated in the 35th AU Summit.
"The country can no longer move on a snail pace," President Barrow said.
"Together we should readjust ourselves to serve the national interest," he added.
President Barrow went further to called for institutional and legal reforms to achieve positive development, saying it cannot be business as usual.
Meanwhile, Ebrima Sankareh, the newly sworn Government Spokesperson said he is the mouthpiece for all government departments and institutions including the Office of the President. He promised to give weekly updates to the press.