Former Secretary General and international speaker Momodou Sabally has called for a return to the basic tenets of our cultural and religious ethos in inculcating discipline in young people.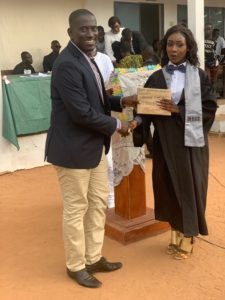 He made this remarks at the graduation ceremony of the West African Senior Secondary School (WASS), on Friday June 28, 2019, as Chief Guest of Honour and Keynote Speaker.
Speaking on the theme "Combatting the High Increase of Indiscipline Among Teenagers in School" Sabally asserted:
"The topic is indeed of relevance without any shadow of a doubt.
Yet the question must be asked: 'What went wrong? Where were we; what used to obtain in the past? And how did we find ourselves in this mess.'
"My first diagnostic premise is that we went for western education whole scale without making sure our cultural value system was fully integrated into the stuff we were feeding into the minds of our young people.
"The abandonment of initiation rites both for male and female has played a major role in the deterioration of the attitude of our young ones.  Add to that the proliferation of the global media input into the minds of our youths, and then the now widespread use of social media with its obvious and unmistakable influence on the young fertile minds of our youths and you will clearly see the path we took to arrive at our current situation.
"We must correct these errata or face the consequences. What we  are seeing is just the tip of the iceberg. We need to solve this problem, NOW!"
"How can a high court judge stoop so low as to interfere in a simple disciplinary matter at school level? Where are we heading as a country?
"And one more thing: Where are the fathers of the teenagers? Where are we? We cannot abdicate our responsibilities and leave all the burden of raising our children to our wives. This is totally unconscionable."
He then called for close collaboration between all stakeholders in a bid to solve the problem of indiscipline.
"The problem of indiscipline can only be solved when parents, school authorities and government officials come together to work in partnership.
"We must look back at our past and try to correct ourselves by bringing back to the fore everything that is good and relevant and teach our young ones our authentic culture and religious ethos.
This is the way forward!"
Sabally then shared his experience and how education helped transform his life for the better. He advised the graduates to espouse the culture of lifelong learning and to play positive active roles in their communities and the country.