By Yunus S Saliu
Among the top questions asked by every Gambian seeking justice for the alleged atrocities committed by the former dictator, Yahya Jammeh, are, why he accepted to go into exile in Equatorial Guinea and what his life is like living in that country.
Tutu Alicante, (EG Justice) Saturday gave answers to those questions during a press briefing organized by Institute for Human Rights and Development in Africa (IHRDA), the Gambian Center for Victims of Human Rights Violations (GCVHRV) and Human Rights Watch (HRW) on 'Bringing Yahya Jammeh and His Accomplices to Justice.'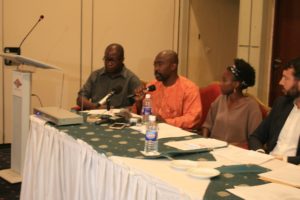 Alicante stated that'Equatorial Guinea is a crime syndicate not a nation' and for the political scientist, 'the country is a textbook case of autocracy where a bunch of criminals gathered together for the purpose of committing crimes.'
'In that context' he continued 'in the absence of an independent judiciary or any other state institution, meaningful civil society including independent media and countervailing political process to hold the government accountable,' such country he said has become a perfect haven for anyone like Yahya Jammeh that is trying to escape its victims.
About Jammeh's life in Equatorial Guinea in spite of calls by people for him to be held accountable for his atrocities and to be brought together with his accomplices to justice, he said it is very unfortunate that the former Gambia dictator is living in a 7 star hotel enjoying a luxurious life in one of the seventeen opulent palaces President Todoro Obiang Nguema Mbasogo owns throughout the country "because he's away from his victim."
Listening to stories of some of the victims of the former president, and for the fact that his government is sheltering dictator Yahya Jammeh he said"I have to take my loyal hat off and say my country, Equatorial Guinea (EG) is definitely a complicit in the suffering of the victims and in denying justice to these citizens in the Gambia."
In his call for justice he said injustice anywhere is a threat to justice everywhere "if we fight for justice in The Gambia that leads to justice in Equatorial Guinea and that will build a bridge to justice in Zimbabwe, Swaziland and in so many other places where African leaders are committing most barbaric acts."
Benedict De Moerloose (Trial International) in-depth dilated on Ousman Sonko, former Minister of Interior's case, a close associate of Jammeh who is currently detained in Switzerland.
Benedict explained that Sonko was arrested on January 28 and he's undergoing a criminal investigation in Switzerland where he is being detained for almost nine months. Sonko, he said, is accused of crime against humanity and torture.
He said so far the former interior's minister has made seven appeals in detention and lost all and on Friday, October 20, 2017 the Supreme Court in Swiss ruled that his assets should be confiscated.
Among the victims who narrated their ordeals under the former dictator at the press briefing included Dr Amadou Scattred Janneh; Imam Baba Leigh, Baba Hydara; Fatoumatta Sandeng; Ayeesha Jammeh; Nana Jo N'dow among others.