A week of advocacy about cancer culminated in the commemoration conference of World Cancer day on 4th Feb, at the Bintumani Conference Hall, in Freetown, Sierra Leone.. The conference was organised by the Office of the First Lady. H. E. Rtd Brig. Gen. Julius Maada Bio was the keynote speaker. The Vice-President was also in attendance with other government officials and international partners .
.
Her Excellency Fatima Maada Bio, the First Lady of the republic of Sierra Leone, highlighted her journey in the fight against cancer in Sierra Leone at the Merck cancer access program in October 2018, where she addressed a high level ministerial panel on the realities of cancer in Sierra Leone and the financial implications for treatment, noting that 70% of Sierra Leoneans diagnosed with cancer die, as there are no oncology centres and very few doctors and nurses trained in cancer care.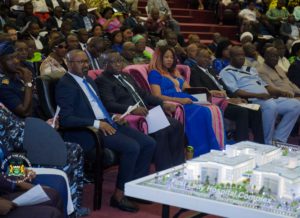 .
His Excellency President Julius Maada Bio in his address commits his government to the fight against cancer, while mentioning the construction of a National diagnostic centre and a radiotherapy cancer treatment centre as initiatives aimed directly at fighting cancer, stating that government will use the eight hundred billion Leones(One Million dollar) cheque that was handed over to him by the Anti-corruption boss, Francis Ben Kaifala, from monies recovered from corruption, as a down payment for the project.
.
According to H. E. Fatima Maada Bio, due to her advocacy at the high level ministerial panel, ten oncology doctors and nurses has been sponsored by Merck Foundation to specialise in cancer care at Premiere Cancer institutions in India and Egypt.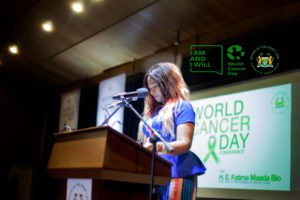 .
She presented to the Government of Sierra Leone a blue print copy of a state of the art Medical Centre. that will not only be used for cancer patients, but it will be the most comprehensive teaching hospital in Africa dedicated to hospital services, training and medical research.
.
The Honourable Minister of Health and Sanitation, Dr. Alpha Tejan Wurie commend the First Lady for standing together with the ministry of Health in the fight against Cancer, while educating the audience on how cancer develops and possible measures to avoid cancer. The Hon Minister also revealed his Ministry is on course to providing Sierra Leone with a dedicated Cancer centre.
.
Madam First Lady concluded by appealing to chiefs and traditional leaders to disseminate the message around, that cancer should not be seen as a death sentence, while admonishing all to stop victimising and discriminating against cancer victims and survivors, stating that, the cure for cancer is seeking early medical attention and not in spiritual houses or local herbs, reiterating the importance of information on the issue of cancer and early diagnosis.
.
Strategic Communications Division
Office of The First Lady
[email protected]
+232 303 68273
https://firstlady.gov.sl/