Gambia National Olympic Committee on Thursday 14th October briefed the media ahead of the arrival of the Queen's Baton relay to The Gambia as part of events and activities marking the Birmingham Commonwealth Games in 2022.
The baton is expected to arrive in the Gambia on 19th October 2021 and already the Olympic House is looking forward to an exciting and eventful visit with series of engagements and activities that involves the President of The Gambia running with the baton, and touring major settlements in Banjul, Kanifing Municipality and West Coast Region.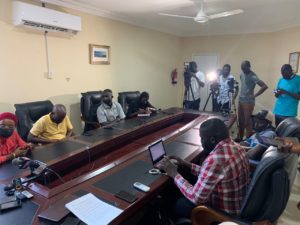 Both the Banjul and Kanifing mayors will run with the baton as well as students from identified schools and athletes.
The British High Commision and the Ministry of Youth and Sport will also host the baton before departing to Sierra Leone.
The full schedule of the three-day activity in The Gambia will be later communicated.
Birmingham will stage the 16th official Queen's Baton Relay – an epic journey across the Commonwealth, with The Queen's Baton visiting all 72 nations and territories, reaching Europe, Africa, Asia, Oceania, the Caribbean and the Americas.
The Relay is scheduled to begin in October 2021, once Her Majesty Queen Elizabeth II has placed her message to the Commonwealth into the Baton.
The Baton will then travel for 294 days, connecting communities in every corner of the Commonwealth, embracing unique cultures and sharing stories.
This collective journey ignites and fosters hope, solidarity and collaboration for the next generation, with inspiring stories encouraging people to take on the challenges that matter most to the development of themselves, their nations and the Commonwealth in general.