By Matty Senghore
The National People's Party beat United Democratic Party to respondents who indicated which candidate is likely to win the December 4 presidential election
The Center for Policy Research and Strategic Studies has published its latest opinion poll on next month's presidential election showing a massive 44% of respondents saying NPP is likely to win the election.
"NPP leads on the likely to win and the intention to vote at 44% and 41%respectively, followed by UDP at 24%and 22% respectively, while others (PDOIS, GDC ,GUP, ESSA FAAL) struggle for less than 10% and 15% of respondents votes respectively. However a significant 24% of respondents say they can't tell who will win , while 25% say they are undecided or say it their secret when asked about their intention to vote," the poll, released on Friday said.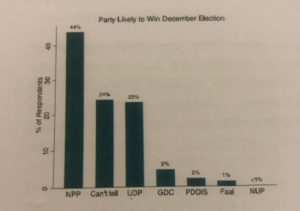 According to the poll relying on respondents, President Adama Barrow's National People's Party is also likely to win in all the regions of the country except Banjul where the number of people who said they can't tell is more than those who said NPP is likely to win.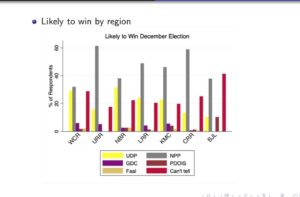 CEPRASS interviewed 1,184 likely voters across the country in a survey that lasted for 10 days.
The survey also revealed that the most important issues for the incoming president to address are health, agriculture and security.