President Adama Barrow of The Gambia has said that the former Interior Minister, Mai Ahmad Fatty was his childhood friend. The Gambian leader was speaking at a press conference held at the State House in Banjul.
The soft spoken leader who was reacting to allegations of nepotism said if he was only appointing people close to him, Mai Ahmad Fatty would not have been sacked because he was not only his personal lawyer but a childhood friend too.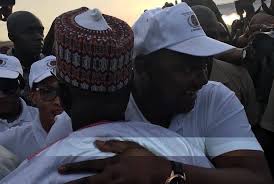 "Mai Fatty was my childhood friend and personal lawyer," President Adama Barrow told journalists.
"We are still communicating," he added.
"Let us not see things on a narrow way but through wider perspective," he said.
The former real estate dealer turned politician went further to reassure Gambians of his commitment to nation building and the general welfare of the people.
He said that he does not personally know many of the people appointed in his government, adding that among the five regional governors appointed he only knows the former Governor of West Coast, Ebrima Mballow who is the current Interior Minister.
"The new Governor of West Coast was introduced to me at the airport upon my return from an official visit in Nigeria," he said.
President Barrow said people always complain about appointments of those allegedly close to him but remain silent on the appointment of others.
Meanwhile, the president reiterated his commitment to improve the health sector.