The Gambian Rasta Presidential Candidate Bankole Ahadzie popularly known as Banky has officially presented his nomination to the country's Independent Electoral Commission (IEC).
Speaking shortly to pressmen after his nomination exercise Banky said he had taken a covid-19 test and the results were not out, therefore he could not grant interviews.
"I have taken a COVID-19 test just yesterday and the results are not out. Therefore, I do not want to endanger the lives of members of the public by taking interviews,"
He however promised to take interviews at a later date.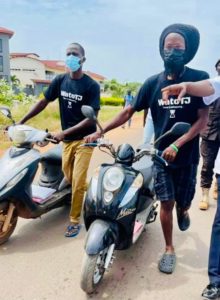 Bankole Yao Jojo Ahadzie (Banky) is a 43-year-old Internet Engineer born in 1977 at Westfield Clinic and lived in the capital city Banjul. He attended Methodist Nursery School, Marina School and then Gambia High in 1994 where he took his O Levels and in 1996 took his A-Levels.
In 2002, he got a scholarship from the MRC to study internet engineering in the UK. He returned home in 2005.
In previous interviews, Banky had called on the Gambian government to move towards legalizing weed as other African nations are already making billions from weed exportation.
"Don't judge me by my appearance, don't judge me by my hairstyle, listen to what my manifesto is and how I can change lives when elected." Banky would usually say
Banky's vision to run for president is anchored on five cardinal pillars, including free education, one-term presidency, creating jobs with decent salaries, development by us for us, and the empowerment of 1 billion Gambian dalasis ($20million) fund in sports.