By: Muhammed Lamin Drammeh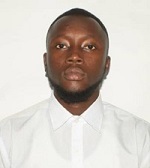 Despite media reports that big European clubs including Chelsea, Nottingham Forest and Napoli are interested in his services, the highly rated Steve Biko and Gambia U20 star attacker Adama Bojang told The Fatu Network in an exclusive interview that he is more focused on improving himself on the pitch ahead of the FIFA U20 World Cup and not distracted by media reports, saying he didn't even have a direct contact from any club since he has people handling issues like that for him.
Tipped to be one of the future stars from the continent, Bojang, since his impressive performance in Egypt, is being reported to be in the books of several European clubs. However, the youngster outlined that his focus is on the pitch, striving to improve his games.
"I have no direct contact with them. I am not responsible for that. I have people who are responsible for that, so they are the ones following that for me. Furthermore, I am focusing on my games and to have consistency to perform well," he told The Fatu Network.
The youngster went further: " I have never disturbed myself asking the people responsible for such about the teams in for me because I would rather not let it be a distraction for me. I know the people that I am working with. I have trust and confidence in them because they will not put me in any position whereby it will harm me. They will always put me on the right track," he pointed out.
At 18, Adama is one of the biggest talents in the country. He told this medium that he is taking interest from clubs in Europe as a motivation for him to continue working hard since it is clear that he is in the spotlight.
The youngster is expected to lead the Gambia's attack in the U20 World Cup in Argentina. As one of the standout players in the continental showpiece in Egypt, Adama will be one of the players to look out for in Argentina.
He holds the national record of being the first player in the Gambia to have scored a hat trick in a continental competition for the country.