By Amara Thoronka 
Gambians go to the polls on Saturday 4th December 2021 to elect their President. As moral guarantors of peace, Gambia Supreme Islamic Council in collaboration with the Office of The Imam Ratib of Banjul and Gambia Christian Council yesterday held a press briefing on the importance of peace and tolerance before, during and after election.
Making a clarion call, The Imam Ratib of Banjul said Christians and Muslims in The Gambia are united and therefore encouraged politicians and their supporters to emulate such by embracing peace and tolerance and follow due process.
"Muslims and Christians live together in unity, peace and tolerance. I want politicians and their supporters to learn from this and always keep the peace in the interest of a unified Gambia. On polling day, stay at home if you have no business with the electoral process, and after voting, go home peacefully and wait for the result."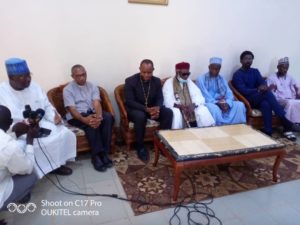 President of Gambia Supreme Islamic Council, Essa Darboe, appealed to Gambians not to say or do things that would destabilize the nation, citing that Prophet Muhammad (PBUH) warned Muslims to desist from creating instability as it is a great sin.
In his contribution, General Secretary of Gambia Christian Council, Rev. Rodney Prom said in the absence of peace everyone suffers, emphasizing that the victory of any of the candidates in the forthcoming presidential election should be seen as a victory of all Gambians.
"When the absence of peace comes upon us it will not look at our faces, religions or political affiliations. It will only steal away our peace, security and shelter. When one person wins the December 4th presidential election it is the whole of Gambia that wins. We intermarry and are connected in many ways, so we should not allow politics to divide us."
Vice President of Pastors Alliance, Pst. Sylvester Jammeh noted that Gambians should exercise their freedom of association with peace, and first think about the children, pregnant women and the disabled before saying or doing anything detrimental to the peace and security of The Gambia.
In climaxing the press briefing, the interfaith clergy prayed for a peaceful, free, fair and transparent presidential election in The Gambia.